Alice Bowman Lecture
May 20 @ 2:00 pm

-

4:00 pm

$20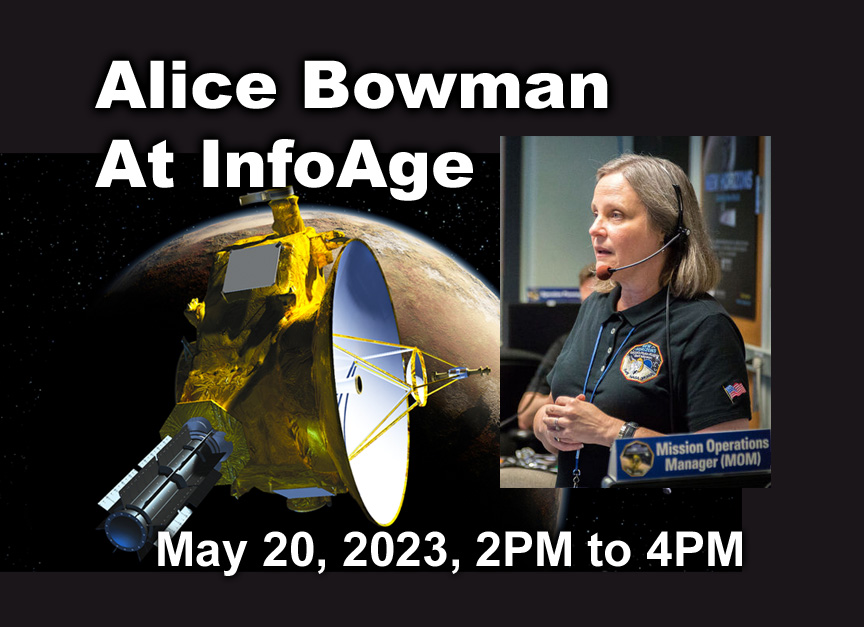 Alice Bowman at InfoAge

There are a few seats left for the grade 7-12 student space exploration workshop this Saturday, May 20, followed by Alice Bowman's lecture on the New Horizons Pluto mission. Only $10 per student (half the adult price, includes both experiences).

Details and register at https://www.infoage.org/horizons-workshop
On May 20, 2023 at the InfoAge Science and History Museums, Alice Bowman, mission operations manager (MOM) for NASA's New Horizons mission, will talk about the historic voyage to Pluto and the Kuiper Belt — which culminated with the first flight past the distant dwarf planet on July 14, 2015, and the first encounter with a Kuiper Belt object (KBO) on January 1, 2019. Alice will speak about New Horizons' continuing journey and describe some of the technical, scientific, and personal challenges of piloting the spacecraft across the solar system to the farthest reaches of the planetary frontier.
Admission is $20.
Alice Bowman is a member of the Principal Professional Staff at the Johns Hopkins Applied Physics Laboratory (APL) in Laurel, Maryland. In addition to being the "MOM" of New Horizons, she supervises APL's Space Mission Operations Group, leading approximately 50 staff members who operate deep space and Earth-orbiting spacecraft, including NASA's TIMED, STEREO, New Horizons, Parker Solar Probe and, recently, DART. Ms. Bowman's experience also includes national defense space operations, systems engineering, program management, space systems, and space instrument development.
Ms. Bowman has a degree in chemistry and physics from the University of Virginia and has more than 30 years of experience in space operations. Asteroid 146040 Alicebowman, discovered by Marc Buie in 2000, is named after her. She is a member of the Society of Women Engineers – which recently presented her with its prestigious Resnick Challenger Medal – as well as an AIAA Associate Fellow, and has served on the International SpaceOps Committee since 2009.
Purchase tickets online: