Space Week 2023
A unique week long exploration of Space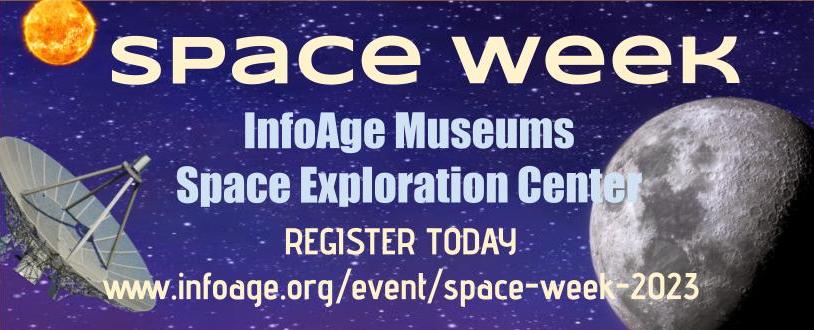 Countdown Till Start of Space Week 2023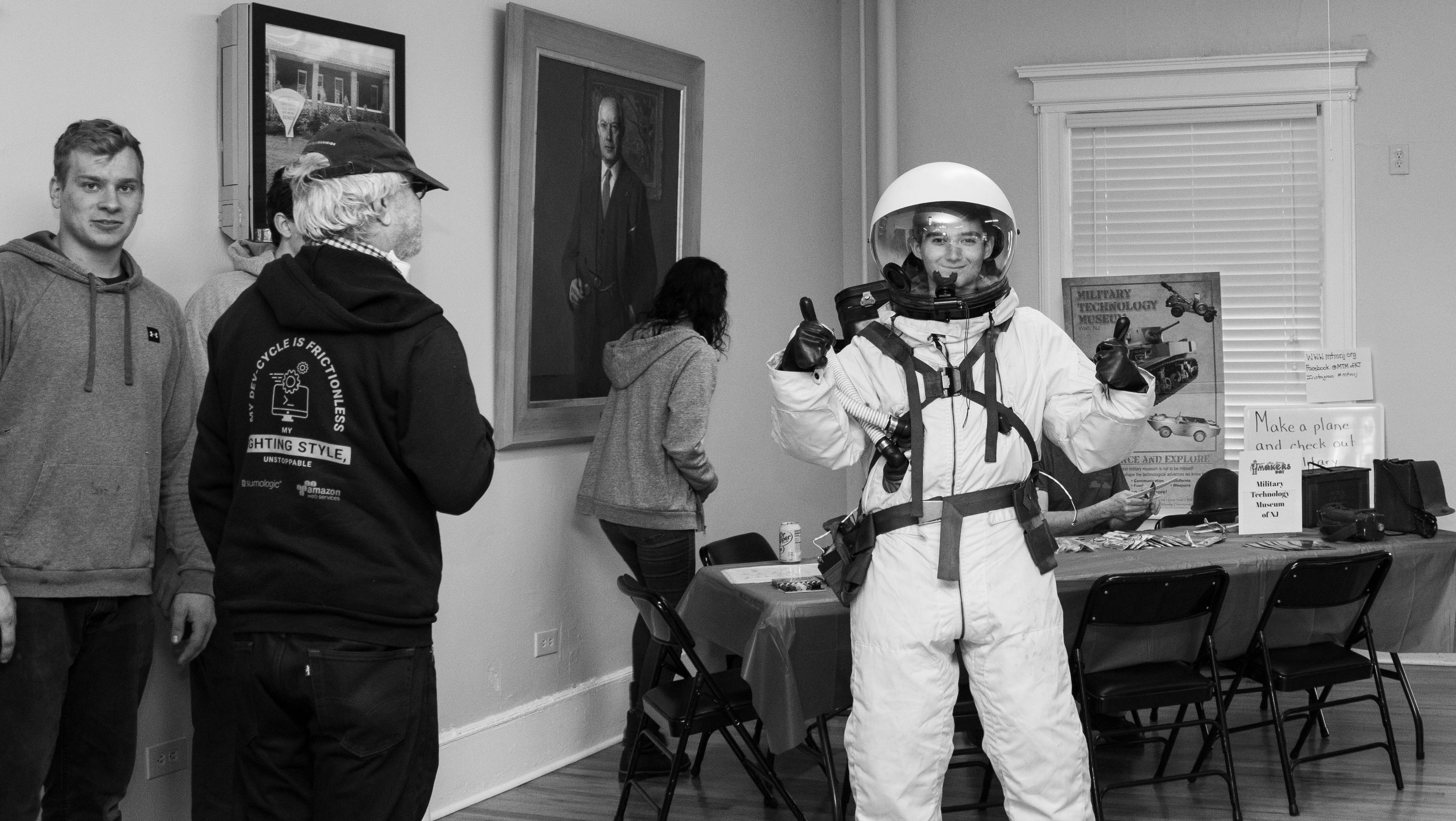 Images from Space Camp 2022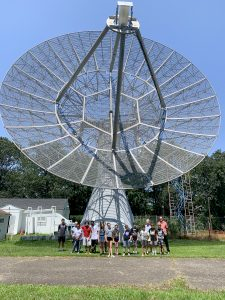 InfoAge Space Exploration Center (ISEC)
Space Week 2023 Summer Program:
This IS Rocket Science!
A Satellite View of Space Week 2023
Middle school students and parents: Are you looking for an out-of-this-world summer adventure on the historic site where global communications and the space race began? Welcome to the annual Space Week experience at ISEC, the InfoAge Science and History Museums Space Exploration Center, in Wall, NJ. Engage in five full days of hands-on authentic activities and experiments focusing on space science and exploration, created and taught by certified STEM educators and featuring incredible guest speakers live and via Zoom, this year including Alice Bowman, Operations Manager for the New Horizons mission to Pluto and beyond!
No other camp site can match our living history. InfoAge is where Nobel laureate Guglielmo Marconi set up one of his first American wireless radio transmitters in 1912. The hub where Washington DC communicated with our forces in Europe. Where the army established Camp Evans Signal Corps during World War II. Where the first radar signal was bounced off the moon at the start of the Cold War. Where the first weather satellite transmissions were received. Some of what went on here was so top secret, we don't even know all of it!
Ignite your curiosity about the universe with hands-on individual and team problem solving activities, from sky high rockets to baseball-sized robots. Launch a new or renewed interest in STEM programs and careers. Touchdown at some of the twenty museums and exhibits on our campus to learn about the birth of computers, the history of radio, and American ingenuity in military and communications technology. 
Monday July 24, Day 1: Countdown 
As you step through the doors of InfoAge, you enter a world of endless possibilities and timeless history. We'll start our week of adventure and discovery by looking into and experimenting with the physics of space exploration. We'll investigate forces, gravity, and the electromagnetic spectrum, and brainstorm weeklong team Genius Hour projects addressing this year's theme, "Living Off World."
Tuesday July 25, Day 2: Launch 
Astrocampers will take an imaginary leap beyond Earth's atmosphere to understand the billions of objects caught in our sun's powerful pull, exploring our solar system's planets, comets, and asteroid and Kuiper belts. Understand orbits, meteors, solar effects, and what happens in the cold, dark vacuum of space. 
Wednesday July 26, Day 3: Strange New Worlds 
How do we know what's out there? On Day 3, we'll learn about telescopes, satellites, and the search for extraterrestrial life (even discuss UFOs– we mean, UAPs!)  Learn the principles of aerodynamics and propulsion by designing, testing, and launching a water powered rocket and brainstorm what life on other planets could be like.
Thursday July 27, Day 4: Landing 
Traveling across space takes more than hardware. Creative and educated people from all walks of life have to design, build, and operate communications systems, rockets, probes, and robots that will make it there. Get a taste of the challenges faced by real-life astronauts building electronic devices and controlling a simple robot.
Friday July 28, Day 5: Return to Earth
Back on our home planet, we'll look at how the earth's atmosphere, magnetic field, and movements of its crust in geologic time define our life here and inform us of what life on other planets could be. We'll finish up and present our Genius Hour project, a model space colony built by the entire camp crew, and celebrate our successful weeklong mission at Space Week 2023!
Space Week plan subject to change.
SPACE WEEK
Summer 2023 Program
InfoAge Science & History Museums
Space Exploration Center
2300 Marconi Road, Wall NJ
Five days of hands-on experiences focusing on space science and exploration!
All new program designed and run by certified STEM educators!
July 24-28, 2023
9AM to 3PM
Ages 11-14
$199 per child
Register by phone. On-line Registration is coming.
Registration questions, contact Mrs. Kudrick at admsupport@infoage.org
or call: 732-280-3000
Questions about the camp program, contact Dr. Natanagara at marc.natanagara@infoage.org
<!=========Slider View Template 2.9.6=========>
We Need Your Help! Volunteer with Us.
Join our mission to preserve historic Camp Evans and teach the public about science and history.
Sign up to join our team of volunteers and start on your own mission today.
InfoAge Science & History Museums
2201 Marconi Road
Wall, NJ 07719
Tel: 732-280-3000
info@infoage.org
webmaster@infoage.org