There's a new exhibit at the InfoAge Science and History Museums' Marconi Hotel at the Camp Evans National Historic Landmark!
By: Melissa Ziobro – InfoAge Trustee, Specialist Professor of Public History Department of History and Anthropology Monmouth University
The Signal Corps at Fort Monmouth (and Camp Evans, now InfoAge) offered unique opportunities for people of color in the 1940s and 1950s. African American electrical engineer and retired senior executive staffer Thomas E. Daniels, who worked at the base for thirty- five years, summed this up in a 2003 interview with journalist Gloria Stravelli. He stated, "Fort Monmouth [and its Camp Evans outpost] was known as the Black Brain Center of the U.S." Daniels affirmed that the post "provided a place where Black scientists and engineers could find jobs and advance their careers," while other research facilities closed their doors to them.
The new exhibit telling this story is almost complete. It was funded in large part by a Diversity Innovation Grant from Monmouth University (where many of these Black history heroes also went to school and/or taught). Manasquan Bank also provided support. Stan Cain Design, LLC created and installed the professional and engaging graphics, which creatively maximize the use a relatively small space.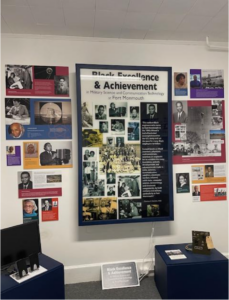 Oral histories conducted by Professor Robert Johnson Jr. in the 1990s with funding from the NJ Historical Commission proved invaluable. The current US Army Communications-Electronics Command Historians, Susan Thompson and Floyd Hertweck, provided research support, as did InfoAge founder Fred Carl. Perhaps most importantly, former Fort Monmouth and Camp Evans employees who lived this story served as advisors: Don Blue, Clinton Brown, James Brown, Willie Johnson, Herman Redd, and William Scott.
Monmouth University Professor Melissa Ziobro, the last Command Historian at Fort Monmouth prior to the base closure and a trustee of InfoAge, served as the project manager and lead curator for this effort.
The new, professionally designed and printed exhibit replaces an earlier one installed years ago as a student project.
If you're local, stay tuned for more information on a formal opening event. In the meantime, the exhibit can be seen during regular hours. Plan your visit at InfoAge.org!
If you're not local but want to know more about this Inspiring story, see:
Reprinted from the Marconigraph: NEWSLETTER OF THE INFORMATION AGE SCIENCE AND HISTORY MUSEUMS
Volume 17, Number 3,  July – September 2023